Business Concept 
Consistent Business Model Focused on IT and Marketing Field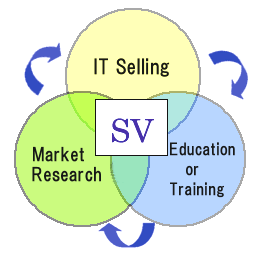 Main Businesses
●Trading or selling the new IT softwares & hardwares
●Marketing research for new products and business models
●Strategic education or training for business leaders or corporations
We summarize and theorize the cases of business activities in the Japanese competition market with business or academic leaders, and apply those cases to the educational business curriculums.
Taking advantage of IT tools and our marketing activities, we update the cases and revolve "practice and theory" to offer immediate effective strategies to help satisfy corporate customers' needs and solve global business issues.
Business Mediator aiming at WIN WIN WIN relationships with customers, suppliers and supporting partners
Targets and roles of these actors
● Customers
…Major corporations, national or local governments, partner organizations and educational institutions planning to introduce IT tools or strengthen business operating systems.
● Suppliers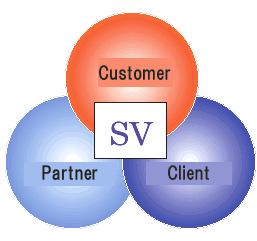 …Companies including worldwide IT venture companies to develop and produce goods and sell them in the Japanese corporate market
● SV Partners
…Companies or organizations to support customers technically from marketing view points with SV
SV will play a significant role as a good mediator to serve the wonderful IT new softwares or hardwares or educational research programs for corporations at reasonable prices.
Contact:〒105-0003 Nishishinbashi building 8F, 1-9-1 Nishi-shinbashi, Minato-ku, Tokyo
Tel:03-5251-3101 Fax:03-5251-6020
Copyright (C) Selling Vision, All Rights Reserved.